AfricArXiv supports COAR on their Input to "Data Repository Selection: Criteria that Matter"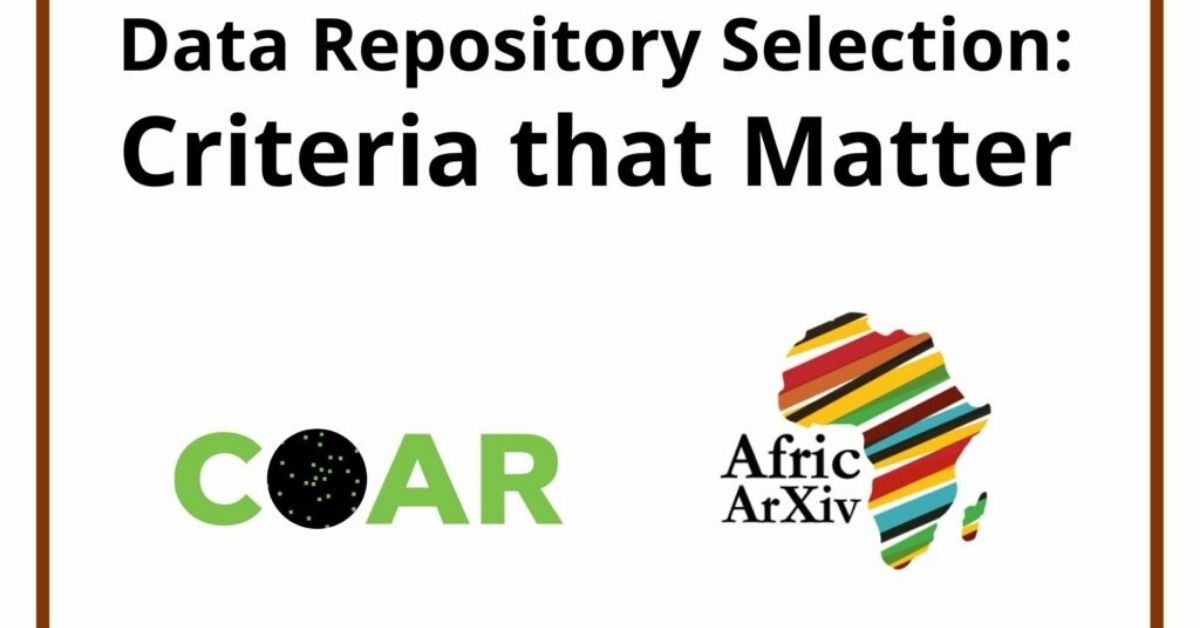 On the 24th of November, 2020 the Confederation of Open Access Repositories (COAR) published a response to the Data repository Selection Criteria, sharing their concerns and why these criteria will pose a challenge to some researchers and repositories.
The representatives from journals, publishers and scholarly communication organisations, FAIRsharing Community came together in October to propose the Data Repository Selection: Criteria that Matter, which presents a number of criteria for the identification and selection of data repositories that accept research data submissions to guide authors in which platform or repository service to submit their data.
As a COAR partner organisation in collaboration with TCC Africa, AfricArXiv shares the concerns raised by COAR.
The issues raised by COAR
(1) Many repositories currently don't comply with the criteria. There are a number of domain repositories, generalist data repositories and institutional repositories that don't comply and do not have the resources to adopt the criteria; (anonymous review, support for versioning of data, etc). The publishers will use these criteria to direct authors as to where they can deposit their data and therefore most repositories will be disqualified.

(2) The criteria are too narrowly conceived. The current draft criteria are a mix of requirements. While they are not inherently bad, although they are skewed towards the needs of publishers to link and peer review the data, they do not include other important considerations for where an author may want to deposit. For example, an author may prefer to deposit data in their own jurisdiction, even if those local repositories are not compliant with these requirements.

(3) Publishers shouldn't be determining where authors should deposit. It should be the researchers (and their funders) that decide the best location for data deposit. This approach gives tremendous control to these publishers to set the bar for repository compliance. Over time, if we cede the control to those publishers, this could (and probably will) lead to only well-resourced (mainly commercial) repositories being available to authors that publish in those journals.

Kathleen Shearer, Executive of COAR
AfricArXiv is a community-led digital archive for African research, with the aim to make African scholarly works discoverable and interoperable. We partner with established scholarly repository services such as Science Open, Open Science Framework, Zenodo, and PubPub to provide a platform for African scientists of any discipline to present their research findings and connect with other researchers on the African continent and globally. As AfricArXiv, we believe in the importance of diversity and interoperability of literature and data repositories and thus also agree that these criteria will limit the freedom of researchers in publishing their own work.
Find the article published by COAR on the "data repository Criteria that matter" at coar-repositories.org/news-updates/input-to-data-repository-selection-criteria-that-matter/
Read and sign the African Principles for Open Access in Scholarly Communication at info.africarxiv.org/african-oa-principles/