AfricArXiv supports the virtual Chatbot Africa & Conversational AI Summit 2021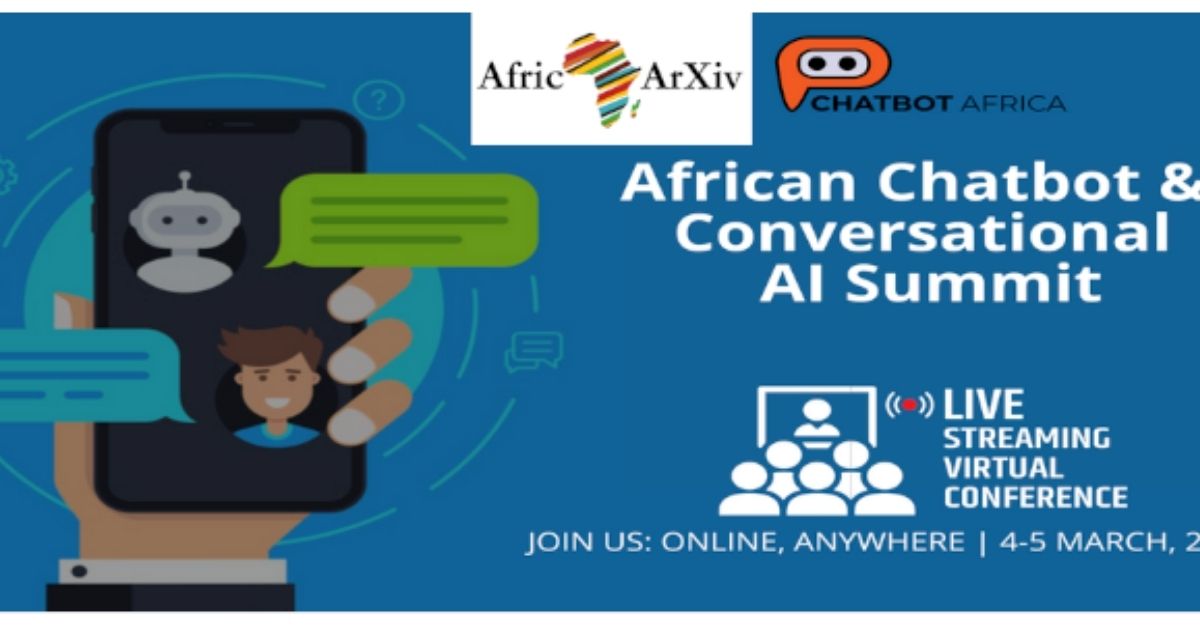 AfricArXiv is pleased to announce our partnership with the African Chatbot & Conversational AI Summit to be held virtually on March 4-5, 2021.
>> Event website: http://chatbotafrica.com/
The summit will cover applications of Conversational AI, Chatbots, Voice, Virtual Assistants, and Conversation Design in a variety of sectors. The focus is on how companies are using chatbots and conversational AI to decrease costs and increase revenues and explore latest trends, use cases, and get a behind the scene look at what is working best.
Questions addressed during the summit include:
How can chatbots improve retail services through vernacular languages?
The relevance of Chatbots in a post-COVID-19 world
Use of Chatbots in Higher Education: A paradigm shift?
Chatbots for social good: addressing the conflict between user requirements, technical constraints, and ethical considerations in education
Educational Research development projects investigating the use of conversational agents in healthcare and mental healthcare applications in Africa
Adding an academic perspective, AfricArXiv will present our multilingual chatbot which responds to questions about COVID-19 with science-backed information. By participating in the summit, we will connect with experts and industry drivers for collaboration to explore latest trends and opportunities in Conversational AI for African scientists and societies at large.
Moreover, AI and Natural Language Processing (NLP) technologies are significantly enhancing scholarly communication as well as boosting research and innovation. We are dedicated to fostering scholarly contribution as the foundation for Conversational AI and development of advanced technologies across Africa.
Panel discussion on NLP for multilingual conversational AI
AfricArXiv will moderate a panel on the topic of Natural Language Processing (NLP) and the intersection between academia and industry in Africa.
African scholars working on any of the topics listed below can attend the summit free of charge. We will provide you with a registration code for a free pass:
Topics:
Enterprises & Bots
Emotional Intelligent Assistants
Natural Language Processing, speech recognition and text understanding
Artificial Intelligence & NLP & NLU
Chatbots & Conversational AI Ecosystem Overview & Investing in Bots
Bots & Conversational AI as vertical solutions
Conversational Design & UX
Voice & Virtual Assistants
Bot Frameworks & Modules
Bots & Emerging Technologies
Language translation work and translation models in A.I.
Equity Diversity & Inclusion in A.I.
The role of A.I. in publishing scholarly research (e.g. computational biology) using machine learning
About CHATBOT AFRICA & CONVERSATIONAL AI SUMMIT
CHATBOT AFRICA & CONVERSATIONAL AI SUMMIT – 100% Online & Virtual is an annual conference for Africa centred around Bots, Conversational A.I., virtual assistant, NLC, NLP, UX design and Voice technologies bringing the leading professionals and organizations who design, build, and market conversational-ai based experiences. | www.chatbotafrica.com
About AfricArXiv
AfricArXiv is a community-led digital archive for African research communication and an openly accessible way to share research contributions across disciplines. We provide a non-profit platform to upload working papers, preprints, accepted manuscripts (post-prints), presentations, and data sets via our partner platforms. AfricArXiv is dedicated to foster research and collaboration among African scientists, enhance the visibility of African research output and to increase collaboration globally.