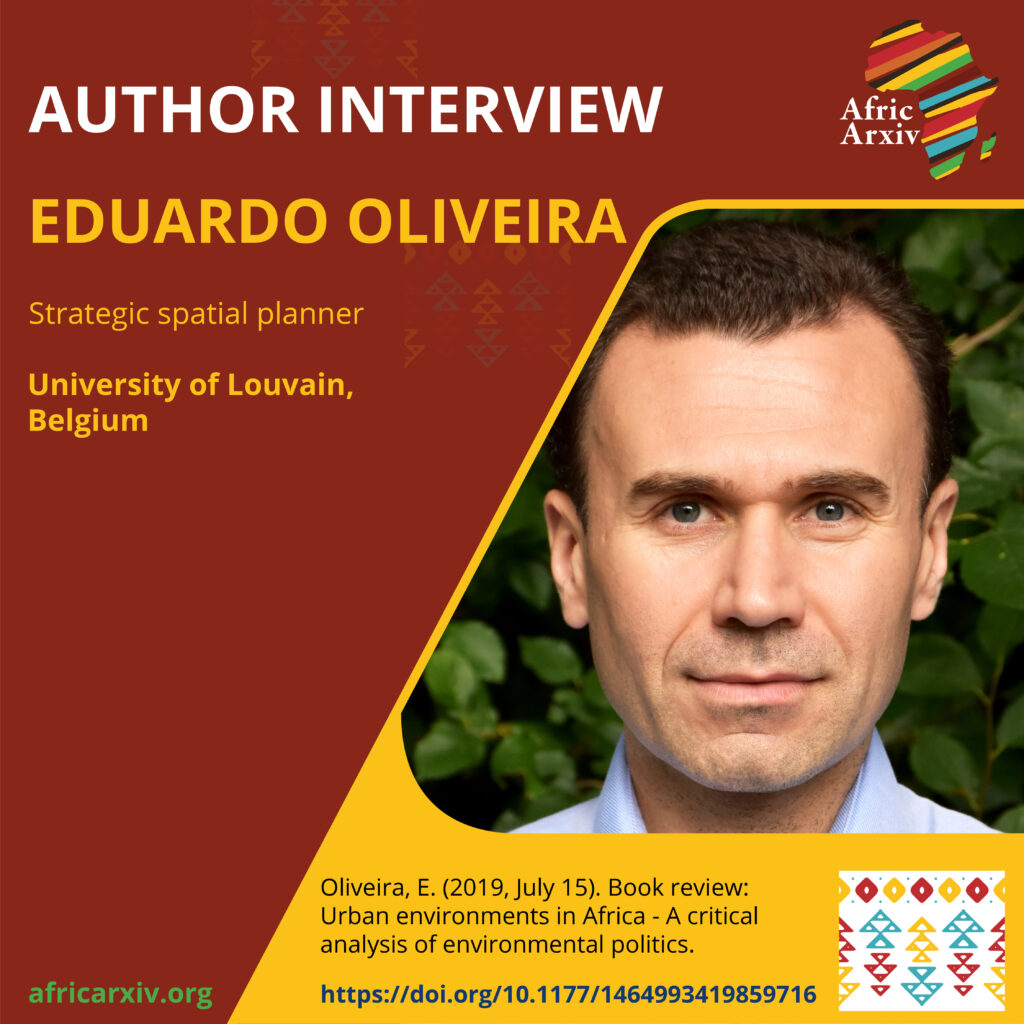 Dr. Eduardo Oliveira, from the University of Louvain, Belgium, is a strategic planner working on land use planning in land use frontiers of Southern Africa.
How can the governance of land systems and sustainability in land use frontiers be improved? What are the synergies and trade-offs between local-based land use challenges, and global interests for land? Have a look at the informative interview with Dr. Oliveira to learn about his research in addressing these questions.
Online profiles: ORCID iD // Linkedin // ResearchGate // Google Scholar
Short bio
Eduardo is a strategic spatial planner with ten years of research activities in higher education coupled with five years of professional experience in planning, governance, project management and science outreach. His major academic achievements are the result of scientific collaborations in the fields of strategic spatial planning and urban governance for sustainable spatial development in European and North America urban regions, and since 2019 for rural development in land use frontiers, specifically in Southeast Africa's Mozambique, where the majority of the rural population depends on land and other natural resources to secure their families' livelihoods.
How did you learn about AfricArXiv?
Through my current supervisor and project leader Prof. Patrick Meyfroidt ORCID iD https://orcid.org/0000-0002-1047-9794
Have you previously shared results on other preprint or institutional repositories?
Yes, in the Munich Personal RePEc Archive (MPRA). MPRA is an initiative by economists of the RePEc network from different countries and runs under the responsibility of the Munich University Library, Germany. The Munich University Library is part of the University of Munich.
Link/s to your accepted uploads and published work:
How is your research relevant to the African context?
Is relevant to develop a process of strategic spatial planning at the community level within a transformative co-production approach of future land systems in frontier regions, specifically Northern Mozambique. Expected findings of my research, conducted within the European Research Council project MIDLAND, will recognize synergies and trade-offs between local-based land use challenges, and global interests for land.
What question or challenge were you setting out to address when you started this work and what are the discoveries that have led you to your current results?
How to improve governance of land systems and sustainability in land use frontiers is the preliminary research question. I am expecting to develop a process of strategic spatial planning which (i) brings together public and private actors operating at different scales, from global to local, (ii) builds on the recent proposals to integrate land systems sciences with landscape planning through "land systems architecture", (iii) accounts for tradeoffs between local and global sustainability issues, (iv) integrates emerging private-led and market-based instruments of land use governance. The forthcoming overall goal is to build methodological toolboxes and theoretical supports to understand the conditions under which deliberate transformative changes in land systems governance in Northern Mozambique and beyond can be fostered.
How do you envision research communication in Africa?
We intend to publish findings in local-based outputs in Mozambique. We are expecting to organize workshops in Mozambique and Belgium, if health conditions related to COVID-19 allow. I am currently managing a science communication platform https://twitter.com/Scienc4Society which I intend to use to reach out to wider publics across Africa.
Do you have any thoughts or questions for Dr. Oliveira? You can leave them in the comment box below.
Editors: Johanssen Obanda (text) and Priscilla Mensah (image)
Are you working on research in Africa or about Africa? You can make use of AfricArXiv, to submit your work at https://info.africarxiv.org/submit/
AfricArXiv is a community-led digital archive for African research communication. We provide a non-profit platform to upload working papers, preprints, accepted manuscripts (post-prints), presentations, and data sets via our partner platforms. AfricArXiv is dedicated to foster research and collaboration among African scientists, enhance the visibility of African research output and to increase collaboration globally.