OB Sisay urges us to learn from the Western Africa Ebola virus epidemic (2013-2016) and make informed decisions about the COVID-19 outbreak across the continent.
OB Sisay was Director of The Situation Room at the National Ebola Response Centre of Sierra Leone during the West Africa Ebola outbreak. He was awarded a Gold Medal by the President of Sierra Leone and awarded an OBE by HM The Queen for his role in ending the outbreak.
Summary from the article COVID-19 Lessons from West Africa's Battle against Ebola by OB Sisay (March 2020)
Originally published at politica.think.bm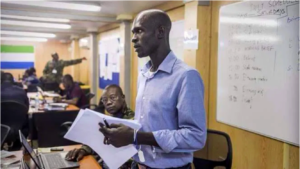 Fact check: don't fall for conspiracy theories
During the initial stages of the Ebola outbreak, WHO and governments presented conflicting figures about infections and deaths – therefore citizens didn't believe Ebola even existed
Instead of emphasising the lack of a cure, focus on the chances of survival with early diagnosis and following guidelines & safety instructions
Some went to traditional healers creating new infection hotspots as those healers, their patients and families got sick, traveled home and spread it further

call or text your traditional healer instead and ask for remote guidance

Some took paracetamol to fool temperature checks at the airport

people are not always rational when they think they might die

Health facilities can tragically become infection centers

Understand and implement infection prevention measures to protect staff and patients

Viral epidemics often infect medical staff in the second assault

Death rates for other diseases will rise
Requirements for mass population movement restrictions
Keep people supplied with essentials (food, goods, medical care)

Decide case by case: keep confined people at home or bring them to the health facilities for closer monitoring of symptoms?
Rule of thumb: stay at home as long as possible / at home minimize contact with confined ppl while maximising safety measures (disinfection, physical distance)

Cures and vaccines need to be developed during the outbreak

Economic and other public policy responses have to be highly dynamic
How do we pay for the response before/during/after the outbreak?
Globally, richer countries have to support LMICs to people as well as supply chains
Companies have to repurpose their entire supply model to ensure resilience
Municipal administration
Companies, schools, the police, public offices, prisons etc. all have to review first aid & isolation and capabilities and training
Help us to compile and provide resources needed by viewing and contributing to the following materials
Related
Case study: 2014 Ebola Virus outbreak in West Africa. This case study is based on a preliminary work presented as a poster at COAR conferences annual meeting 2019 and ElPub 2019.