The German startup DialogShift and the pan-African cross-disciplinary preprint repository AfricArXiv develop a multilingual chatbot for African citizens, researchers and policy-makers to provide quick answers around COVID-19.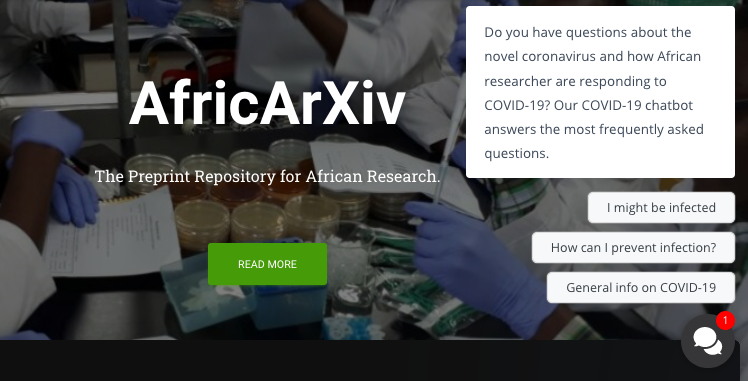 The coronavirus pandemic has overwhelmed the world with an incredible force. Most people find it difficult to keep an overview of the current situation and above all they are worried about their own health. The Berlin hospital group Vivantes has implemented a Covid-19 chatbot on their website in March 2020. The chatbot answers around 1000 questions a day in several languages (German, English, Turkish, Russian and Arabic) and around the clock. Artificial intelligence, in combination with the possibility to ask questions via a chat, answers the most relevant questions about the virus, qualifies the patients by means of an expert system and gives specific recommendations for action.

Virtual assistants such as chatbots have great potential, because they are available 24/7 and answer basic questions in different languages automatically. The simple and fast information transfer helps citizens and patients, especially in these times of uncertainty.

Olga Heuser, Dialogshift CEO
The COVID-19 chatbot provides immediate information about possible infection and common symptoms as well as where additional, trusted and region-specific information can be sourced from. During a one-month initial phase, we will closely monitor questions asked by our website visitors and adapt responses accordingly.
Chatbots by design are dialog systems which serve as natural language user interfaces for data and service providers. Through the incorporation of this chatbot into the AfricArXiv website our team will be able to better facilitate the timely and efficient access to information related to research from African scientists regarding COVID-19 and how to better assist them in making their research results available for global scholarly discourse and discussion.

Luke Okelo, Technical University of Kenya [ORCID iD]
Through Natural Language Processing (NLP) utilizing Google Translate, the chatbot is available in more than 100 languages including Afrikaans, Arabic, Amarinth, Chichewa, English, French, German, Hausa, Hindi, Igbo, Malagasy, Portuguese, Sesotho, Somali, Sunda, Swahili, Xhosa, Yoruba, and Zulu. During the initial phase, we will test the accuracy of translations into African languages and seek feedback from our visitors so that we can improve translations of languages mostly used in this context. Contact us if you would like to help us in adding more African languages to this list, or in case of comments, questions or concerns.
e-mail info@africarxiv.org
About DialogShift
DialogShift's Conversational AI Platform enables companies and organizations to integrate live and automated conversational experiences across multiple devices and allows customer or user communication via messaging or chat(bots) at different touchpoints.
About AfricArXiv
AfricArxiv is a community-led digital archive for African research communication. We provide a non-profit platform to upload working papers, preprints, accepted manuscripts (post-prints), presentations, and data sets via our partner platforms. AfricArxiv is dedicated to foster research and collaboration among African scientists, enhance the visibility of African research output and to increase collaboration globally.