Increasing discoverability of African research output
AfricArXiv is a free community-led digital archive for African research. We provide a platform for African scientists to upload their working papers, preprints, accepted manuscripts (post-prints), and published papers. We also provide options to link data and code, and for article versioning. AfricArXiv is dedicated to speeding and opening up research and collaboration among African scientists and helping to build the future of scholarly communication.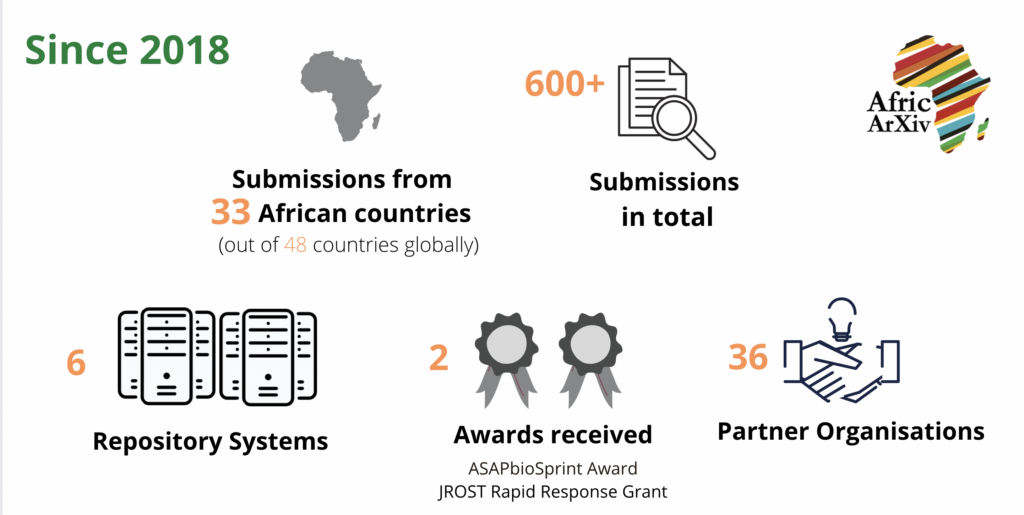 Scholarly publishing in its increasingly digital and open form (Open Access) provides new opportunities for the dissemination of African scholarly content: 1) to a global audience, and 2) allows for knowledge exchange between African scholars and non-African researchers of African studies and other disciplines.
Vision
A decentrally managed pan-African open Access platform that serves as a credible, reliable, and viable multidisciplinary archive of research works from and about Africa. The contents of AfricArXiv are accessible and interoperable across platforms within and beyond the African continent, while they are owned, hosted, and curated by the African scholarly institutions on the continent.
For details, go to https://github.com/AfricArxiv/preprint-repository.
Mission
Establishing an independent and open research repository and interoperable source of contributions for and from researchers as well as innovators working on pan-African advancement with the goal to increase discoverability of African researchers' output and for all scientists who work in an African context.
Objectives
Make text, data and information on online digital scholarly platforms searchable and discoverable
Showcase African research output
Promote submissions to African journals
Disseminate African knowledge and expertise
Enable research exchange on the continent
Foster cross-continental collaboration
Highlight research of local and regional relevance
Fill the gaps where institutional repository systems are missing
Work towards interoperability between text and data repositories
Transfer knowledge accumulated by Africans in the diaspora back to the continent
Target groups
Early- and mid-career researchers, for reputation-building by archiving theses, dissertations, student reports, datasets, research contributions, etc.
Senior-level researchers to provide open access (OA) to their work
Data creators to link datasets to the African research environment
Librarians to assess and define how best to guide African researchers in the scholarly communication workflow (discipline- and region-specific)
Conference, webinar and course organisers to collate conference outputs
Policymakers and governmental institutions to support decision making and publication of documentation relevant to African affairs
Non-governmental organisations working on African affairs to provide open access to their reports
Why do we need a scholarly repository for Africa?
Make African research visible and discoverable globally
Increase collaboration across continents
Disseminate research results in African languages
Trigger interdisciplinary research
We encourage submissions from
African scientists and scholars based on the African continent
African scientists and scholars currently based at a host institute outside Africa
non-African scientists who report on research conducted on African territory
non-African scientists who report on research relevant to African affairs
non-scientists and non-scholars who work at governmental, for-profit and non-profit institutions to submit their reports and datasets in compliance with scholarly standards, to allow for cross-sectoral knowledge exchange
We accept the following file types
Text documents (preprints, postprints, VoR):

Research article and review manuscripts
Project proposals
Preregistrations
Student reports
'Negative' results and 'null' results (i.e. results that do not support a hypothesis)
Theses

Datasets, scripts and code
Presentation slide decks
Posters & infographics
Audio-visual content, e.g.:

Webinar recordings
Video and audio files from interviews

Non-academic works from institutions that work at the intersection with academia:

Annual organisational and business reports
Policy statements and recommendations
Guidelines and infographics
Media coverage
Press Release: The Center for Open Science and AfricArXiv Launch Branded Preprint Service
[ English ]
[ French ]